Today, I'm linking up with Faith from
Walk With Me By Faith

for a fun Christmas Card Carousel! This will be my 3rd year linking up, and I look forward to it every year! Thank you Faith for keeping up this fun holiday tradition!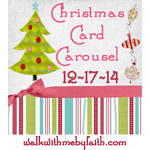 I'm also joining
Brettni
,
Lyndsey
,
Amanda
, and
Joy
for their Christmas Card Party! Don't forget to use #ChristmasCardLinkup on your social media posts!
I didn't think it was possible to top last year's Christmas cards, but I should have known better. My friend Holly, owner of
Artsy Occasions
, never ceases to amaze me! She is my go-to gal for any invitation, card, announcement, party favor, decor... you name it, she does it. And does it well! We always get so many compliments on the things we send out, and it's all thanks to her.
I knew that this year, since it was our first Christmas as a family of 4, I wanted something different. I presented the idea of a round shape, and Holly loved it! So, that was step 1. Easy enough.
Step 2: Colors. I have been obsessed with navy ever since we did Crew's nursery in navy and white. I even used my new favorite combo for our color scheme for our

family pictures

. So, when it came time to pick a color palette for our holiday cards, I had no doubt that navy would play a role. I wanted to include some gold this year too. I have been majorly crushing on all things gold this holiday season, and I thought it would compliment the navy beautifully. Holly used some metallic gold paper, which really accented the navy.
Step 3: Wording. Every year, I like to use a fun quote; I think it's more exciting than "Merry Christmas" or "Happy Holidays." It's more me. I used a play on words and thought I would incorporate the gold sparkle design into our saying, thus getting "May Your Holidays Sparkle." Love it.
Step 4: Accessories. Holly adds little personal touches to any masterpiece she creates. On our cards this year, since they a round shape, she thought it would be fun to attach a metallic ribbon. I loved the idea, and you don't know how many texts I gotten from friends and family with a picture of our card on the tree. Brilliant Holly! She also personalized the envelopes and added the sparkle design to them.
I couldn't be happier with the finished result, and as I always say... I don't know how we'll top these next year!
Of course, I also have to thank Jenae with

A Perfect Pixel Photography

for our fabulous family pics! The cards would not have been the same without them!
And, a big thank you to everyone who sent us a Christmas card this year, I love displaying them in our kitchen. Something about Christmas cards just gets me in the holiday spirit! I anxiously rush to the mailbox in anticipation during the month of December! So fun!
And now, here's a look at the 2014 Slater Christmas card...
2012 Christmas Card